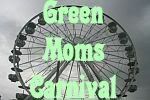 I'm pleased to host a mini Green Moms Carnival on World Environment Day (WED) and World Oceans Day (WOD).
WED is celebrated every June 5. It was established by the United Nations General Assembly in 1972 to mark the opening of the Stockholm Conference on the Human Environment.
This year's theme is "Your Planet Needs You-UNited to Combat Climate Change" and is intended to spur nations to agree on a new deal at the crucial climate change convention later this year. WED's goals generally are to:
Give a human face to environmental issues;
Empower people to become active agents of sustainable and equitable development;
Promote an understanding that communities are pivotal to changing attitudes towards environmental issues;
Advocate partnership which will ensure all nations and peoples enjoy a safer and more prosperous future.
WOD doesn't seem to receive as much press as WED, but it is just as important. WOD is June 8, 2009, and its theme is "one ocean, one climate, one future." Keep it in mind and wear blue on June 8 to celebrate WOD.
So, what do the Green Moms say about WED and WOD?
Lynn from OrganicMania urges us to take the opportunity on WED to plant a tree, and gives us lots of options. Jenn at Mother Nature Network echoes Lynn (which makes sense, since the UNEP's goal is to plant a tree for every person by the end of this year) and also urges us to plant a tree.
And Mary at In Women We Trust has a whole list of ideas. Lots of ideas. And of course, reminds us to plant a tree. I need to follow her advice about my road rage. Trust me, I say "carp" a lot when I drive. I use to say much worse things, but then my son started repeating them so now I just say carp. CARP. But, yes Mary, I'll remind myself to count to ten and remind myself that the carp need me.
Beth (my plastic hero) over at FakePlasticFish has identified everything you can do for WOD. And if you do one thing, STOP USING PLASTIC BAGS of any sort, from grocery to produce to snack. Just don't use them. Ever. Need to know why? Check out the Great Pacific Plastic Garbage Patch to start.
You can find out more about the Green Moms Carnival and our schedule for the year. A hot topic is coming up  for our full June Green Moms Carnival – eco-confessions and eco-guilt. The green moms come clean, and discuss the problems we have with going and staying green, and how we are definitely not perfect. Don't forget to check it out on June 24 over at The Green Parent. And feel free to contribute too.
This is the unique URL for this post. Please click before sharing. Thanks much.