Looking for a job? If you are pregnant, I've got one for you:
WANTED: Young, pregnant mother to act as spokesperson. Must be willing to drink liquids and eat foods from metal canned foods and beverages. Must also execute full release and waiver for any and all birth defects or other harm suffered by fetus.
Think I'm kidding? Unfortunately, I'm not.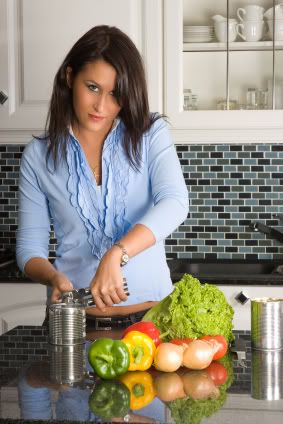 An unbelievable memo summarizing a May 28, 2009 meeting of canned food and beverage industry representatives to combat the legislative efforts to restrict the use of bisphenol A (BPA) seeks the "holy grail" spokesperson – a "pregnant young mother who would be willing to speak around the country about the benefits of BPA." The meeting minutes were obtained by the Milwaukee Journal Sentinel and the points verified by John Rost, chairman of the North American Metal Packaging Alliance (NAMPA), who only quibbled with the minutes because the meeting was 5 hours long. Kathleen Roberts, a lobbyist representing NAMPA, organized the meeting and also confirmed the accuracy of the notes, reported the Washington Post.
And, if the pregnant woman doesn't convince you to drink the punch, well then, they will scare you. They will argue that without BPA, you won't have access to baby food – ignoring that other packaging methods exist. And if scaring you doesn't work, then they will focus on "the impact of BPA bans on minorities (Hispanic and African American) and poor" since, apparently they believe these groups eat more canned food but don't care about the health of their children?
If you didn't know, BPA is found in the linings of virtually all canned foods and beverages in the US, except for Eden's Organics beans. So, you get dosed with BPA every time you consume metal canned foods and beverages, such that the Centers for Disease Control and Prevention has found BPA in 93% of us.
BPA is linked to a host of adverse health effects. It is an endocrine disruptor – meaning it interferes with the body's hormone system. A recent study found prenatal exposure to BPA feminizes male monkeys. There are numerous studies documenting adverse health effects in animals. Even if you don't want to believe the more than 100 hundred studies that have found that BPA causes hormone disruption and other health effects, the National Toxicology Program found "some concern" (a 3 on its 5 point scale) for effects on the brain, behavior, and prostate gland in fetuses, infants and children at current levels of exposure. And a large study of humans found BPA exposure linked to heart disease and diabetes.
So, um, yeah, let's have a pregnant woman tout the benefits of BPA.
I'm so pissed. How stupid do these industry representatives think we are? They think that if they pick the right "messaging" (which the industry will discover through at $500,000 survey of consumer perceptions and messaging), we will ignore the growing body of evidence of adverse health effects associated with BPA exposure? That we can't separate the fact from the fiction?
Hmm, you know, I'm perfectly capable of analyzing a press release. Take NAMPA's press release following the Milwaukee's JS story, in which NAMPA whines that the industry's viewpoint is ignored by media and that governmental agencies consistently determine that BPA is safe. Well, the FDA's assessment of BPA's safety has been roundly criticized, even by the FDA's own Scientific Advisory Board, which found that the FDA has created a "false sense of security" about BPA's safety. That's right, a FALSE sense of security. And evidence just surfaced that the FDA personnel were just too cozy with industry lobbyists and representatives. Oh, and by the way, although the National Toxicology Program isn't a regulatory body, it is highly respecte. And it did NOT conclude that BPA was safe. Health Canada didn't conclude BPA was safe.
So, instead of spending money to explore alternatives, the industry wants to spend money convincing us women (because, well, we do make most of the household buying decisions) that BPA is safe using a pregnant woman. Yep, that's right, you will be persuaded by a young mother telling you BPA is safe.
Or, the industry will scare us that without BPA, we will die from contaminated canned foods. Well, Japan has made significant strides in alternatives to BPA containing epoxy resins for canned foods. And, Eden's Foods uses oleoresin for its beans (and yes, I know that oleoresin won't work for tomato-based or other acidic produts).  Or, they will scare people that we won't have canned foods. Well, instead of canned, you can choose fresh, frozen, dried, or jarred in glass, or, my least favorite option, a BPA free plastic.
The memo indicates that the industry representatives and companies involved – Coca-Cola, Alcoa, Crown, North American Metal Packaging Alliance, Inc., Grocery Manufacturers Association (GMA), American Chemistry Council, Del Monte – want a "grassroots" effort. So let's give them a grassroots effort of mommy bloggers speaking out about BPA, the potential health effects, and the options for BPA-free products.
Let's not play nice with our children's health.
Let's raise our voices, moms! We got BPA out of most baby bottles. Let's tell the industry enough is enough. Don't try to fool us – do something proactive instead. Find a solution.
Are you ready to join us? Speaking out, my friend Sommer from Green and Clean Mom says "Talk to the Hand". She's got a plethora of Tweets about what we think about the industry's back door meeting. But I love how she points out the irony that companies love mommy bloggers when they want us to sell something and be brand evangelists, but that we are hysterical and just don't understand the science when we question product safety or environmental standards.
SafeMama says manufacturers are getting scared because we are smart. We educated ourselves about the hazards of BPA, and are seeking alternatives and demanding legislation.
Jenn Savedge (author of The Green Parent: A Kid-Friendly Guide to Environmentally-Friendly Living

and The Green Teen: The Eco-Friendly Teen's Guide to Saving the Planet
) at Mother Nature Network urges us to prove industry wrong.
And my friend Alicia from The Soft Landing (with a fabulous online store of BPA free items, among other things), asks who are the fear mongerers now? After accusing us of being fear mongerers, the industry representatives have decided to turn the tables to encourage their primary customers, women between 21 and 35, to stick with canned foods. And she cries foul.
Lisa from Retro Housewife . . . Goes Green reminds us that the FDA, tasked with protecting the safety of food contact items, is in bed with the BPA industry and wants us to use the power we have to stop this travesty.
Katy, over at Non Toxic Kids, is angry. Really angry. She wants green mamas moved to action.
This post received a Great Green Post Award from Green Moms Review!