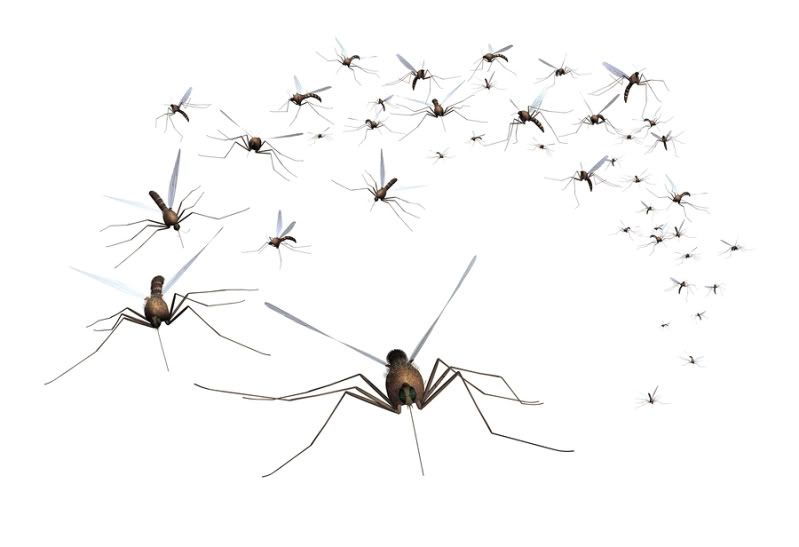 Got bugs? 
Summer means playing outside and hanging out as the day sinks into twilight. But what about those pesky bugs? A lazy summer afternoon can be ruined by biting bugs. 
Conventional insect repellants contain synthetic pesticides, phthalates (hidden in the fragrance) and other nasty chemicals. Many conventional pesticides contain DEET.  DEET's use is controversial.  Major regulatory and medical establishments, including the American Academy of Pediatrics, claim DEET is safe and effective if used properly. However, studies have found that DEET can slow motor skills and impair central nervous system function, especially if used in combination with permethrin (used on some outdoor clothing to repel insects).  These studies associated adverse health effects from sustained, regular use of DEET-containing repellants (at least once per day, for 5 or more days).  The reported adverse health effects included skin irritation and headaches to seizures, restlessness, rapid loss of consciousness and even death.  
Before you turn to conventional insect repellants, try prevention. A Smart Mama knows that prevention is alwasy the preferred solution. So, to prevent bugs in the first place:
Stay indoors at dawn and dusk, when the flying insects are most likely to be out and about looking for you.

If you live near a woods, spread a 3-foot-wide swath of wood chips between your lawn and the woods to deter ticks.  Ticks aren't able to navigate the chips.

Don't let mosquitoes breed.  Eliminate standing water in your yard.  And don't forget to clear clogs from gutters – mosquitoes will breed in a very small amount of water.

If you have a birdbath, change the water twice weekly (no standing water for mosquitoes).

Don't forget to change any outdoor pet water dishes daily.

Plant scented geraniums, lemon thyme, marigold, tansy, citrosa plants, sweet basil, and/or sassafras near your home to repel mosquitoes.
If you are still having bug problems, you might want to try an insect repellent that uses essential oils instead of using a product containing a synthetic pesticide. Plants whose essential oils have been reported to have repellent activity include citronella, cedar, verbena, geranium, lavender, pine, cajeput, cinnamon, rosemary, basil, thyme, allspice, garlic, and peppermint. Calendula ointment is also an excellent insect repellent.  But, there is a downside to using these products. They tend to give short-lasting protection, usually less than 2 hours. So, if you are in an area with insects carrying potentially life-threatening diseases, and you need to have long lasting protection, it may make sense to use an insect repellent with DEET or something similar.  Just make sure you follow the instructions.    
If you are going to use insect repellants based upon essential oils, keep in mind that it works by scent. So, these products usually need to be applied and re-applied generously. Also, essential oils can be irritating or cause allergic reactions.  It is always a good idea to patch test before applying all over.  And, of course, if you know you have a reaction to a particular plant, then stay away from products containing that plant. 
What are some non toxic alternatives? 
California Baby's Natural Bug Blend Bug Repellent Spray uses citronella, lemongrass and cedar essential oils to repel bugs.  A lot of readers have reported enjoying the scent.  Trust me – it does not smell like synthetic citronella. 
Burt's Bees Herbal Insect Repellent relies primarily upon rosemary to repel insects.  Its ingredients are: glycine soja (soybean) oil, ricinus communis (castor) seed oil, rosmarinus officinalis (rosemary) leaf oil, cymbopogon schoenanthus (lemongrass) oil, thuja occidentalis (cedar) leaf oil, mentha piperita (peppermint) oil, cymbopogon nardus (citronella) oil, eugenia caryophyllus (clove) flower oil, geranium maculatum (geranium) oil, and tocopherol.  
Ecosmart's Insect Repellant uses a blend of the following organic plant oils:  rosemary, cinnamon leaf, lemongrass and geraniol.  It comes in a spray bottle.  The other ingredients are isopropyl alcohol, isopropyl myristate and wintergreen oil.  My son really likes this scent – I think it is a little much, actually I lot much.  I understand that it is available at Wal-Mart. 
A Smart Mama reader recommends Mexitan's Skeedattle Anti-Bug Spray.  The ingredients are vanillin, citronella oil, lemongrass oil, peppermint oil, potassium sorbate and sodium benzoate.  The company does not use synthetic fragrances or preservatives, and the products are paraben free.  As an added bonus, you can use the product on pets to repel fleas and ticks. 
Bite Blocker comes in a lotion, a spray and a wipe.  It is recommend by the Pesticide Action Network North America PANNA). The products are a blend of soybean and coconut oils and are safe for kids.  PANNA reports that the New England Journal of Medicine found Bite Blocker for kids provided better protection than the DEET based product with 5% concentration. Studies conducted at the University of Guelph, Ontario, Canada, showed that this product gave more than 97% protection against Aedes mosquitoes under field conditions, even 3.5 hours after application. During the same period, a 6.65% DEET-based spray afforded 86% protection, and Avon Skin-So-Soft citronella-based repellent gave only 40% protection.  
Another option is a product containing eucalyptus lemon essential oil.  It is the only plant-based active ingredient for insect repellents so far approved by the CDC.  (The CDC has also approved the synthetic version – known as PMD – I would skip the synthetic version completely).  But, eucalyptus lemon essential oil can be toxic if ingested in high concentrations.  So, only use a product with a low concentration of eucalyptus essential oil.  Plus, these products are not recommended for children under 3 years of age, so I tend to skip them.  However, I like eucalyptus lemon essential oil.  Why? Because silverfish do not.  And I do not like silverfish.  I just put a little on a piece of fabric and stick it at the back of my cabinets.  No more silverfish.  Whoo-hoo!  I get mine from: 

In the interest of full disclosure, I am an affiliate of Mountain Rose Herbs. If you click the link, I get a percentage based upon what you purchase. I love Mountain Rose Herbs and am proud to be an affiliate.