The United States Food and Drug Administration ("FDA") issued a warning today that moms should not use Mommy's Bliss Nipple Cream because two ingredients can cause respiratory distress or vomiting and diarrhea in babies.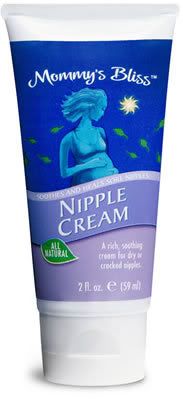 The issue is that infants may ingest the cream, and the two ingredients together may cause problems.  Mommy's Bliss Nipple Cream indicates that it does not need to be removed before breastfeeding.  
You may also be frustrated because Mommy's Bliss Nipple Cream is advertised as containing "natural botanical ingredients."  However, as I often discuss, you have to be extremely careful with claims like "natural" since it isn't a regulated, defined term. 
In any event, the FDA is concerned about two ingredients:  chlorphenesin and phenoxyethanol.  (As an aside, neither of these are identified on the ingredient list on the company's website).  Chlorphenesin relaxes skeletal muscle and can depress the central nervous system and cause respiratory depression (slow or shallow breathing) in infants.  Phenoxyethanol is a synthetic preservative that is primarily used in cosmetics and medications.  It also can depress the central nervous system and may cause vomiting and diarrhea, which can lead to dehydration in infants. 
What should you look for?  Mothers and caregivers should watch for a decrease in an exposed infant's appetite.  More serious signs would be difficulty in awakening an exposed child, limpness of extremities or a decrease in an infant's strength of grip and a change in skin color.   The FDA advises parents and caregivers to seek immediate medical attention if your child is showing these signs and symptoms. 
If you are looking for a lanolin-free nipple cream (some people are concerned about the potential pesticide residue in lanolin and also about wool allergies), you might want to try Earth Mama Angel Baby's Natural Nipple Butter. It is certified vegan and 70% organic. Earth Mama Angel Baby's Natural Nipple Butter is made from organic olive oil, organic calendula extract, cocoa butter, organic shea butter, candelilla wax and mango butter.