I went shopping with my daughter yesterday at Target.  My son needed some shirts.  I tried at Goodwill first in an effort to reuse – but size 6 boys shirts without stains are hard to come by at Goodwill.   
Once at Target, I decided to see how green we could go at a mainstream retailer such as Target.  Okay, I realize that is a little at odds with my recommendation to reduce global warming – consume less.  And that should be the goal – but if you have to consume (like my son's belly poking out because his shirts are too short) – consume green. 
Usually, I don't poke around Target because I'm stuck with 2 kids.  But Target is where we go.  Practically speaking, where else can you shop with 2 children completely incapable of coordinating potty breaks?  One-stop shopping retailers such as Target are gifts from heaven for parents.  First, there is the all important unisex bathroom.  All 3 of you can fit in the bathroom since you can't just leave your child sitting outside the stall.  No, that would mean that your child would crawl under the stall just to make sure he is within 6 inches of you at all times.   
Or, if you are stupid enough to have your children inside the stall with you, being afraid that some stranger will kidnap your child, your child will INSIST that he must get out of the stall while you have your jeans down at your ankles and tell the world that his mommy is pooping.  Very important information for the rest of the world to have. 
Plus, Target has readily available food to bribe your children.  Because of course your children will decide that they are hungry despite having eaten 15 minutes before and then act like you haven't fed them in 2 weeks and are starving them as punishment. 
So, anyway, I decided to see how green we could really get at Target.  Here are our finds: 
First, boys tops.  We found some super cute boys short sleeve t-shirts from 100% organically grown cotton fiber – IMO/GOTS certified facility and dyes.  Cotton isn't my first choice since it is such a resource intensive crop, even if it is organic, but this is a good find.  GOTS is the Global Organic Textile Standard, and covers from harvesting through manufacturing to labeling.  The shirts were $9.99 each.  One shirt has the slogan "I'm going environmental" across the front and the other reads "You're wasting my energy."  There were some other slogans, but not available in my son's size.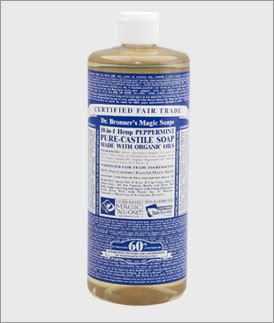 So, we moved on to cleaning supplies, which I also needed.  Our Target carries a limited selection of Dr. Bronner's liquid soaps.  I picked up a 32 oz. peppermint liquid soap – great for everything from general cleaning to killing and deterring ants.  It is water and organic coconut and organic olive oils, organic hemp oil, organic jojoba oil, organic peppermint oil, mentha arvensis, citric acid and Vitamin E oil.  It is 100% vegan and certified fair trade.  At Target, it was $12.99, a little bit cheaper than on-line at Dr. Bronner's website ($14.49).  I also picked up a 2 oz. to use at work.  Yes, more plastic, albeit 100% post consumer recycled plastic, but I'll re-fill it and re-use it.  The only problem is that Dr. Bronner's liquid soaps aren't located in cleaning supplies where you would expect them.  No, Target wants to make the Dr. Bronner's soaps difficult to find. They are located in cosmetics in the aisle for fancy specialty cosmetics. 
In the same aisle, I also came across some new products from the J. R. Wakins company.  The
company's packaging is super cool – very English vintage apothecary.  I picked up a lotion to try.  The Watkins' lotions are free of parabens, phthalates, sulfats, DEA & TEA, petroleum based chemicals, 1, 4-dioxane, etc.   
I also picked up Watkins' Lavender Window Cleaner, which uses lavender and rosemary oil.  It is free of petrochemicals, phthalates, etc.  It works very well, although the scent is more earthy, herb rosemary than lavender.  They lemon and aloe & green tea cleaners, however, use a small amount of synthetic fragrance.  To be honest, I think sticking with vinegar and water is a more cost-effective, green solution for window cleaners, but this is an option for those who don't want to make their own.   
The company offers a number of other products, including an automatic dishwashing cleaner.  I'm going to inquire about the processing of the coconut based surfactant, and then order it if the answer is good.  I'll let you know. 
Although we didn't buy any, in terms of green cleaning, Target offers Seventh Generation.  Target also carries Method, which is better than conventional cleaners but not a green line per se (and it doesn't advertise itself as such). 
If you want to go green by making your own green cleaners, Target carries Borax in the laundry aisle, as well as baking soda and white vinegar in the food section.  Plus, you can pick up isopropyl alcohol (IPA) and hydrogen peroxide, both for disinfection, in the pharmacy section. 
I also needed bar soap.  With the bar soaps, at first glance, it looked like Target had a much bigger selection of natural soaps than it used to have.  However, on closer inspection, although many were packaged with eco-friendly packaging, such as recycled paper and soy inks, the ingredients weren't was I wanted – and included synthetic fragrance.  So, I ended up back in cosmetics to buy a Dr. Bronner's castile soap bar, which was in the specialty cosmetic aisle and not with the bar soaps. 

While in cosmetics, we picked up some Burt's Bees Chemical Free Suncreen to use.  I just ran out of my current fave, Tru Kid, and my son desperately needs sunscreen.  Having tried the Burt's Bees now two times, I can say it works, but I don't like it.  It goes on okay, but quickly becomes chalky looking.   
I also found some Bamboo Garden Exfoliating Facial Pads – loofah on one side and bamboo on the other, 2 pads in a recycled paper container.  These would be better than using something disposable for exfoliating (and much better than any scrub containing polyethylene beads).  I also spied a line of cosmetic brushes made with bamboo handles from Eco-Tools, although synthetic fibers, but the packaging was disappointingly plastic.  
The cosmetics aisles supported many lines claiming to be "natural" or "organic" but few of the products lived up to the claims.  I think for truly natural, organic cosmetics, you'll still have to head to Whole Foods, Drugstore.com or some other source. 
Target did not have any paper towels, toilet paper or tissue made of recycled fibers, so we were out of luck with paper goods.  The cleaning section did have some micro fiber clothes, which are better than disposable paper towels.  But, they didn't have anything like Twist's 100% biodegradable Euro Cloth.  My greenest solution – use old cotton t-shirts instead. 
Cruising the store just to check out what other green things we could spy, we found organic sheets, but a limited selection.  No pink princess organic sheets for my daughter.  We spied low flow shower heads, which would be a great weekend project.  You can save 2 to 3 gallons per minute by switching to a low flow shower head.  We also saw compact fluorescent lightbulbs and smart power strips to curb those energy vampires. 
Cruising baby supplies, Target does have organic infant formula and organic baby food.  The only green baby line my Target carried was Nature Babycare.  Having no children still in diapers, I can't say how well the diaper works, but it is chlorine free and the material is based upon 100% GM-free corn instead of plastic.  The company's website claims the diaper is 100% compostable.  I picked up a package of wipes, which are made from wood from sustainable, eco-managed forests and are chlorine free and compostable (supposedly).  One quibble is the ingredients – it includes phenoxyethanol, which is manufactured with ethylene glycol, which comes from petroleum, and glycerin, which can either be petroleum based or vegetable.  So, I've sent an inquiry to the company.  Also, the packaging is based on natural chalk – the film – but it is still polyproylene. 
In the stationery aisle, we found Faber-Castell EcoPencils, made of reforested wood and certified  FSC, meaning that the wood comes form 100% well managed forests.  Totally cute!  The pencils are decorated with horses, butterflies, etc.  Again, these weren't where you would expect them – they weren't in the back to school supplies.  But I was just glad to find them, and my daughter was excited too. 
We also spied soy based candles in the next aisle – although some of the collection appeared to have synthetic fragrance added.  By this time, my daughter was hungry, so I couldn't poke anymore.  Wwe checked out and then picked up some organic mac and cheese for her, with organic juice and organic yogurt, from the Target food court.  Not bad for a quick meal. 
All in all, you can do pretty well at Target if you are trying to go green. But, you won't get any help from the staff, which can be frustrating when you are trying to decipher labels.   
At Target's website, there are several green, eco friendly furniture options, including formaldehdye free tables and such.