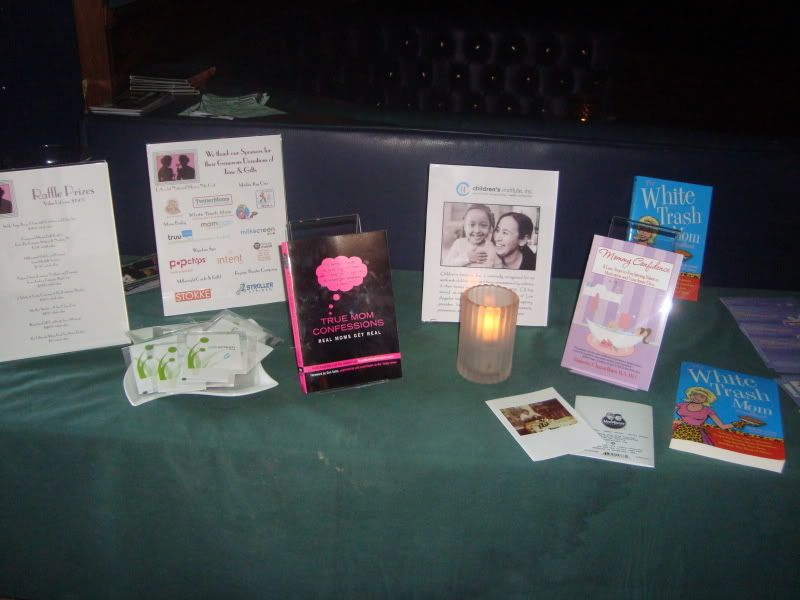 This post is a slight departure from my normal fodder, but the fun of blogging and Twittering is making new friends and sharing information. And it is even more fun when you can meet your friends in real life (IRL). So I thought I would share the recent event at which I got to do just that. 
I had the privilege of attending the 1st annual National's Mom Nite Out IRL event in Los Angeles hosted by the fabulous Pump Station and Nurtury at The Mint. The best part of the evening was meeting twittering and blogging friends in real life. Okay, not quite accurate – the best part of the evening was having 3 hours where I didn't have to take any potty breaks EXCEPT FOR ME. AND BY MYSELF. WITHOUT INTERRUPTION. 
So, just because of that, Mom's Nite Out (MNO) was a huge success. I had food without having to share (except for PopChips with Michelle (see below)), got to use the restroom by myself, and even had an adult drink. So, thank you to Maria Bailey, BSM Media CEO and founder of MomSelect, who dreamed up National MNO. Really – it doesn't take much to get us moms excited – adult food without having to share, a couple of drinks, and bathroom privacy. Woot! No wonder MNO involved 10 million moms online and offline. 
The event at The Mint was just one of the IRL locations, but, showing my bias, it was the best one. 
I met so many people with blogs I love or with whom I tweet regularly IRL for the first time, and also many people I admire. Special guests included Megan Calhoun, founder of TwitterMoms.com and Mallika Chopra from Intent.com. Also at the party were Kimberley Clayton Blaine, founder of TheGoToMom.TV and Romi Lassally, founder of TrueMomConfessions.com and author of True Mom Confessions book. 
Michelle Lamar, from WhiteTrashMom.Com, flew out to LA to attend the party. She is the author of one of the most fun parenting books, The White Trash Mom Handbook: Embrace Your Inner Trailerpark, Forget Perfection, Resist Assimilation into the PTA, Stay Sane, and Keep Your Sense of Humor
(you really should buy it). I got to hang out with her and actually buy her a drink . . . and I turned her on to PopChips. I left her for a brief second, and return to 5 empty bags on the table. Actually, I think she may hate me now for addicting her to PopChips. 
I also got to see Kimberly Walls again, the creator of Epicuren Baby. I think she is one of the few people in this world that love discussing the ins and outs of fragrance and chemical ingredients in beauty products as much as I do. Epicuren Baby products rock.  
There were fabulous prizes from the sponsor, The Pump Station and Nurtury, and, of course, swag bags. It was a great evening. 
So, I highly recommend you Save the Date for the 2nd Annual National MNO, on May 6, 2010! 
This is the unique URL for this post. Please click before sharing. TIA.