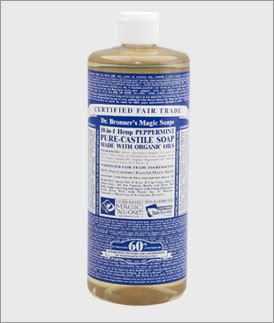 The 518Moms blog posted some green cleaning tips from my forthcoming book, Smart Mama's Green Guide: Simple Steps to Reduce Your Child's Toxic Chemical Exposure
, and since they are some of my favorite tips, I thought I would share the post with you. So check it out for green cleaning tips that are non toxic AND will save you some green. 
But, the blog post left out my most favorite tip – a homemade soft scrub. I find a soft scrub to be the most versatile cleaner – from the toilet to counter tops to sinks. All you need is some liquid castile soap, some baking soda, some essential oil and some glycerin (perhaps). I like Dr. Bronner's rose or citrus castile soap – rose smells wonderful if you like floral, and citrus is great too. Just place 1 cup baking soda in a squeeze bottle and add castile soap until you get the consistency you like. I like almost a ratio of 1 to 1, but make it as you want. You can add an essential oil for a pleasing scent, or add an oil with antibacterial properties, such as tea tree or rosemary. If you plan to store (not use up right away), add 2 teaspoons vegetable glycerin. 
A note on castile soap – castile soap is a soap made from vegetable oil, not a brand. Target carries Dr. Bronner's castile soaps in the natural beauty oil, or you can pick up from almost any health food type of store. You can also order online – Mountain Rose Herbs (click on the affiliate ad over on the left and I make some many if you order – I love Mountain Rose Herbs and that is why I'm an affiliate). 
However, if you have hard water, a soap may not work that well. Try a small amount and see how well it performs.