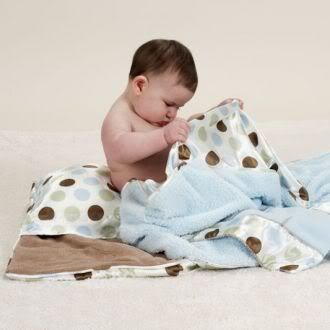 Grab your Smart Mama swag.
As you may know, I've been doing lots of XRF testing for companies to determine compliance with the Consumer Product Safety Improvement Act (CPSIA). One of the good parts of this testing is meeting people and getting to know products and companies.
I was hired to do XRF lead content testing for Little Giraffe. Before I was hired, I was already very familiar with Little Giraffe because both of my kids had Little Giraffe small blankies or loveys. In fact, my son couldn't sleep without his Little Giraffe travel silky, and I remember a desperate Christmas Eve trying to find a replacement after he lost his while traveling. I then learned a very important lesson, and a Smart Mama tip – always have at least one back up lovey.
Little Giraffe products are awesome. Really, my daughter still has her blanket from 4 years ago. The pink is now a faded grey, but she still loves it.
In any event, Little Giraffe has donated a unisex kid's sleeping bag for a Smart Mama giveaway – fully CPSIA compliant. The sleeping bag is luxurious – signature polka dot with reverse plush in brown. Attached pillow. No zippers. Rolls up.
To enter, just leave a comment to this post including a valid email address (email addresses are not displayed) by March 3, 2009 at 11:59 pm Pacific time. Winner will be selected using a random number generator.