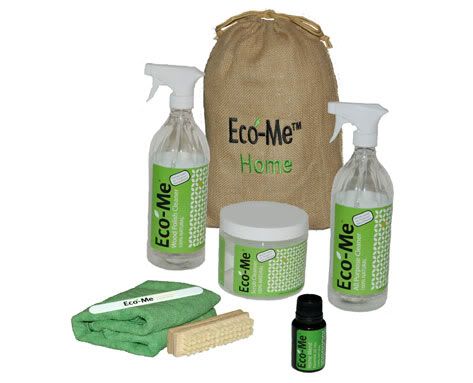 Win some Smart Mama Swag! I'm giving away one Eco-Me Home Kit to green your cleaning from Eco-Me.
I'm always posting about reducing your toxic chemical exposures in the home by getting rid of conventional cleaners. If you haven't read those posts, just trust me. Conventional cleaners can contain harsh chemicals, cancer causing chemicals, allergens, and hormone disruptors. In fact, many conventional cleaners contain hormone disrupting phthalates just in the supposedly nice scent.
Plus, I always talk about going green and saving your green (money, that is) by making your own homemade cleaners. I've posted how to make your own disinfecting spray, and recipes for homemade cleaners.
But, making your own cleaners can be hard and a little scary for the first time. Although it may be how our grandmothers cleaned, mixing up your own homemade cleaners, is, well unfamiliar territory for most of us. Mixing tea tree oil and water with baking soda and then putting it on your countertops doesn't seem quite right.
If you have always wanted to try, but haven't been quite ready to do it, Eco-Me has the solution for you. The Eco-Me Home Kit gives you all the tools to make your own cleaners at home. The kit contains: 1 natural fiber storage bag, 2 spray bottles for mixing spray cleaner and polish, 1 jar for mixing scrub cleanser, 1 handy mixer, 1 microfiber cleaning cloth, 1 bottler of Eco-Me Home Cleaning Essential Oil and instructions. You bring oil, vineage, water and baking soda. Trust me – it makes greening the cleaning easy. And you can win one here!
How to win? The details – just enter a comment on this post with what homemade cleaners or cleaning activities you have tried, whether or not you have had success, or a tip related to homemade cleaners. It can be funny or useful or informative. I'll use random number generator to pick from the comments. You MUST include a valid email address to be contacted. Leave a comment by 11:59 pm on May 15, 2009. Winner will be chosen on May 16, 2009.
Here is the unique URL for this post. (If you want to Share This, please click on the unique URL first, and then do it so you get the unique URL for this post, as opposed to my home page. Yes, I'm lame, but I haven't figured it out yet.)