I woke up this morning to a bright and sunny day here in California and had the urge to de-clutter and clean for a sprakling, happy home. Welllllll, as much as you can have a sparkling clean home with two messy toddlers and a bemused, befuddled husband. In any event, I enlisted my son to take all of the laundry to the laundry room (bribery works wonders) and tried to convince my daughter to dust (just like Cinderella before the fairy godmother waved her wand). I don't think she quite bought it – she kept chanting bippity boppy boo under her breath. Hey, kid, if it was that easy, I would be living in a magic castle with a staff of thirty, not just me and my broom trying to stem to tide of dirt.
As I got ready to clean, I surveyed the plethora of so-called "green" and "natural" cleaners I've collected in the research for my forthcoming book, and realized it must be awfully confusing for anybody out there to figure this out. "Green" and "natural" are marketing terms – not regulatory or scientific terms. There are no labeling standards or any real regulatory standards for this stuff.
It seems to me that most people buy green cleaners because they want safer cleaners. Cleaners that don't contain ingredients that are irritants, allergens, asthma triggers or be associated with cancer, reproductive toxicity or developmental toxicity. For example, most conventional disinfectants contain phenol and cresol. Phenol and cresol can cause diarrhea, fainting, dizziness, and kidney and liver damage. A study funded by the California Air Resources Board and conducted by researchers at University of California at Berkeley and Lawrence Berkeley National Laboratory found that a person who cleans a shower stall for 15 minutes with a cleaning product containing glycol ethers may be exposed to three times the recommended one hour exposure limit. The same study found that using air freshener in a child's room along with an air purifier that generates ozone can result in the formation of formaldehyde, a known carcinogen, levels 25% higher than the state recommends.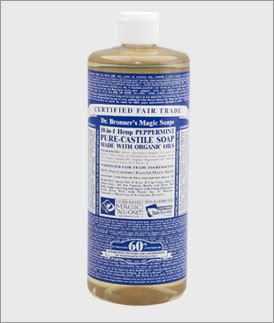 So, you don't want those things in your natural or green cleaners. If you are going to spend more, and most of them are more expensive, then you want them to be safer and not to contain those chemicals. But some of them do – some "natural" cleaners, for example, contain petroleum distillates. Not what you wanted, right? Others contain limonene (a citrus based oil) or pine oil, both of which can cause allergic dermatitis.
So what can you do? One thing you can do is make green cleaners at home. It is a lot cheaper than buying conventional or green cleaners and you will know exactly what is in your products. So, here are the basics:





Baking soda (sodium bicarbonate) is a great cleaner and deodorizer. You can buy baking soda at the local grocery store – you probably have some in your pantry already. Use it to polish by making a paste with water. Baking soda will polish aluminum, chrome, and tin; soften fabrics; remove certain stains; and can be used as underarm deodorant and toothpaste.






Lemon juice can be used to clean glass; remove stains from aluminum, clothes and porcelain; and lightens/ bleaches if used with sunlight.






Washing soda (SAL soda, sodium carbonate decahydrate) will cut stubborn grease on grills, broiler pans and ovens.






Vinegar (distilled white) will dissolve mineral deposits; remove grease, traces of soap or wax buildup; polishes some metals; and deodorizes.






Borax can be used as a deodorizer; inhibits mold growth; boosts the cleaning power of soap or detergent; removes stains; and kills cockroaches when used with an attractant such as sugar.






Citrus peel. Disinfects; deodorizes; fragrance; freshens air.






Cream of tartar. Nonabrasive cleaner for porcelain, drains and metals.






Salt. Abrasive, non-scratching cleaner (most surfaces) with anti-bacterial qualities.
So, how do you clean with these? Here are some of my favorite recipes:





All purpose cleaner – Combine 2 cups white vinegar with 2 cups water. If you want, you can add a few drops of essential oil. Essential oils can be purchased online or at most natural food stores. A word of caution about essential oils – some people are highly allergic to some or all of them. Another alternate cleaner is 3 tablespoons bakign soda dissolved in 1 quart warm water – put in a spray bottle.






Soft scrub (creamy) – 2 cups baking soda with 1/2 cup liquid castile soap (I like Dr. Bronner's peppermint soap the pest). If you add 4 teaspoons of vegetable glycerin, it will keep in a glass jar for a year. I love

Dr. Bronner's peppermint Castile soap

. If you haven't tried it, you should (or any of the other liquid soaps). They are made with coconut, olive, jojoba and hemp oils with pure esential oils. I use the peppermit Castile soap for ants too. Ants hate peppermint, so I add some with water to a spray bottle and spray the perimeter of our house!






Scouring powder – 3 parts baking soda to 1 part Borax.






Toilet bowl cleaner – Add baking soda to toilet bowl and clean with toilet brush.






Glass cleaner – 4 tablespoons lemon juice in 1 gallon of water, or try 3 tablespoons vinegar per 1 quart of water in a spray bottle for windows.
If you have any great tips for household cleaners, post your favorite. And post your favorite natural or green cleaner.