I went shopping yesterday with my two children. Perhaps I should be more precise – I went adventuring yesterday in a jungle of attractive breakable items. I had to carefully negotiate dangerous aisles full of things that could be poked, prodded, ridden or turned into swords with two animals confined to a cage with wheels. The word "shopping" suggests a pleasant past experience, at least for me. I love to shop (I never get those women on What Not To Wear who find shopping with someone else's $5,000 to be such a chore – give it to me if you don't want it!) I love to shop – alone or with a girlfriend or my mom or my sis. I do not love to shop with a 5 year old and a 3 year old (hear me husband?)
So, me and my two kids went shopping for buckwheat pillows. Why do you ask? Because my husband calls his buckwheat pillow "the crusher pillow" and both my children MUST HAVE ONE NOW. Alas, we didn't find them at the one store we stopped at. And we didn't have time for another store because that one store took more than an hour since we had to have 2 potty breaks. Nonetheless, we did have success – and I'm so excited. I found so "green" nonstick cookware!
I've resigned myself to a sticky existence. I'm just an okay cook, and I have missed my non-stick cookware. What's the problem with non-stick cookware? Well, first, to be honest, it may not be non-stick cookware as much as the stain- and grease-repellants used in food packaging, clothing, carpets and other materials. But the compounds used to make non-stick cookware and stain, water and grease repellants – perfluorinated compounds – are showing up in our bodies and our breastmilk. PFOA – perflouorooctanoic acid – also known as C8 – is best known for being used to make non-stick cookware (it isn't the coating itself, but is used in the manufacturing process). PFOA is one of the perfluorinated compounds detected in our bodies. Studies have found PFOA in the blood of 95% of Americans. And, more alarmingly, one study found 96% of 598 children tested had PFOA in their blood. PFOA isn't the only perfluorinated compound showing up in our bodies. We seem to be awash in perflourinated compounds as our Teflon existence has grown. In our nonstick environment, shielded from grease and stains, we have made ourselves nonstick too. Our children are nonstick as well. The perfluorinated compounds pass across the placenta. We also pass these compounds through our breastmilk. A recently released study found perfluorinated compounds in all of 45 human breast milk samples tested.
How are we exposed to perfluorinated compounds? Scientists are still researching it, but it appears that household dust and food and food packaging are primary sources. But non-stick cookware remains a suspect source. So, I've gotten rid of my nonstick cookware as they got scratched, secretly wishing that I could keep them. I've been acquiring stainless steel, but, I am eco-shamed to admit it, I longed for non-stick.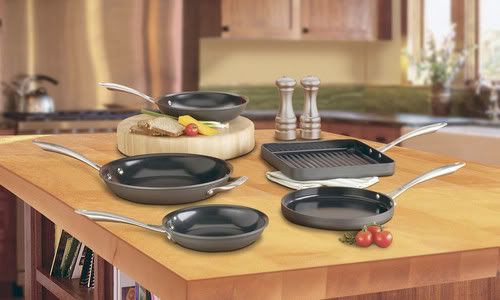 In our hunt for buckwheat pillows, we went to Bed Bath & Beyond. Although unsuccessful on the pillows, I came across Cuisinart's new Green Gourmet. These pans are eco-friendly non-stick cookware featuring Ceramica non-stick technology. The non-stick part is ceramic based – it is petroleum-free. It also free of PFOA and PTFE. And the packaging is 100% recycled materials and made with soy-based inks.
I'm itching to try them. I'll let you know how they work. But I'm excited!