I happened across this beautiful gift in a quest to find an organic, non-toxic sleep positioner and fell in love. It is the perfect gift for the eco-concious mom. And it would make a beautiful centerpiece if you are hosting a baby shower.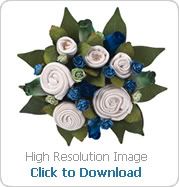 What is this fabulous gift? It is the Organic Baby Bunch from The Baby Bunch. The basic "bouquet" includes one bib, one t-shirt, one hat, one pair of socks and a onesie. The clothing is 100% organic, undyed and unbleached cotton sized for babies up to 16 pounds (or 6 months). Size 6 to 12 months is also available. The leaves are crafted of wood and recycled pape. You can recycle them yet again to create a lasting keepsake bouquet!
The clothing flower buds are circled with different colors – whether you know the sex or need something unisex. The Organic Baby Bunch arrives wrapped in tissue in a re-usable floral keepsake gift box with lid.