Today I conducted a seminar on how to buy safer toys at The Pump Station and Nurtury. The seminar included testing toys for lead, cadmium, chromium and other elements using my Niton XRF
analyzer. (I do offer in home testing of toys, or you can mail me a toy or toys. I also go to schools and day care. Read more here.) Most of the moms attending were new moms, and, for the most part, they weren't aware of all of the recalls last year for lead in children's toys. Happily pregnant, they were blissfully ignorant about the recalls while the rest of us were trying to figure out how to get rid of our recalled Thomas the Train pieces without upsetting our children. In any event, I thought I would re-visit the issue of lead in toys.
Plus, the CPSC announced several new recalls of children's toys yesterday for violation of the lead paint standard. Included in the recent recalls are Disney Tinker Bell wands (paint on the pearl beads violated the lead standard); the Disney Store Pirates of the Caribbean sleeping bags (zipper pull) and Sure Grip paint brushes (yellow) from Early Childhood Resources.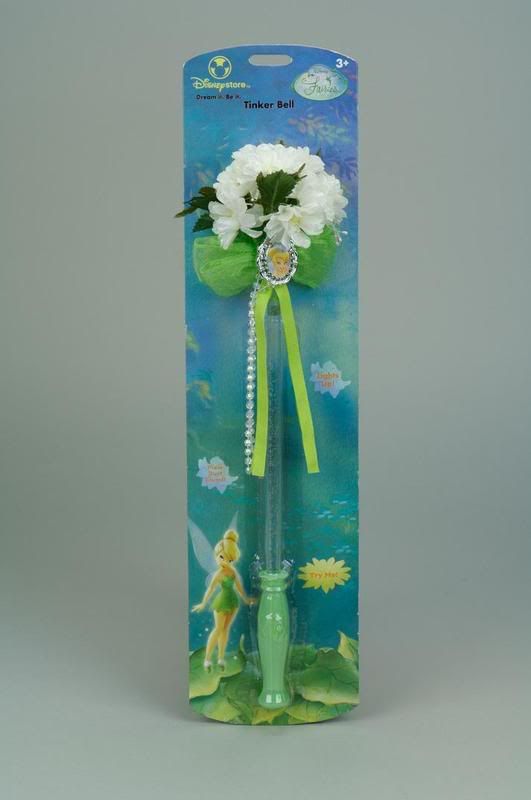 Okay, so why is lead in toys? Lead paint is cheaper. It is also bright, shiny, durable, fast-drying and flexible. Lead chromate can enhance yellows or oranges. It makes paint stick better. It also resists mildew – which is why it is great for wood surfaces likely to get wet. Lead can be found in paints or surface coatings used to decorate toys. As a result, plastic, wood, glass or ceramic toys can all be painted or decorated with lead paint.
Federal law limits the amount of lead in paints or other coatings to 600 ppm. But, as we learned last year, that standard isn't always met.
Lead can also be used as a stabilizer in polyvinyl chloride (PVC) plastic. PVC must be stabilized, or it loses strength, and lead is often used. The lead may not be bound up in the polymer and may migrate to the surface where it can be available for pick up. The migration is accelerated by exposure to heat, friction and light. PVC is often used in toys. It is that soft, flexible plastic.
No federal standard for lead generally in toys exists, just for surface coatings on toys. Surprising, isn't it? You'd think that the limit would apply to toys generally. And toys exist without surface coatings that have lead. I thought most of our toys were pretty safe – I've been careful with respect to what I've let in the house. Of course, I had fun testing my kids' toys with the handheld XRF analyzer. Most toys were pretty good. But I tested these yellow plastic drum sticks – they weren't painted or coated, the yellow was an integral part of the plastic. The results? 45,000 ppm. Yes, that is right, 45,000 ppm. I was horrified. And then I felt guilty since my daughter had played with them the night before.
In addition to painted toys and PVC toys, lead is also found in faux pearls, children's metal jewelry, children's painted jewelry, zipper pulls (painted metal), raingear (often PVC), rainboots (often PVC), etc.
Despite the federal standard, and even following last year's recalls, lead is still found in toys. The Ecology Center issued a report documenting its testing. The Ecology Center, in conjunction with the Washington Toxics Coalition, has tested approximately 1,200 toys. In the testing, it found lead, cadmium and other chemicals. The results of the testing showed that more than one-third of toys tested (35%) contained lead. Seventeen percent of toys tested at levels of lead above the 600 ppm federal standard for lead paint.
So what's the deal with lead? Lead can harm brain development, resulting in reduced IQ, shorter attention span, and delayed learning. It is widely recognized that there is no safe level of lead. Children are particularly susceptible to lead exposure for a variety of reasons.
The risk of lead exposure for toys may be small in comparison to the risk of lead poisoning from lead based paint and household dust contaminated with lead, but every bit of lead exposure matters. As explained by Mary Jean Brown, Chief of the CDC's Lead Poisoning Branch, all lead sources must be considered because "every little bit counts because once lead is in the body, it's very difficult to remove." And toys coated with lead add to the risk.
Smart Mama's Simple Steps to Reduce Exposure from Lead in Toys





Wood is good

. Wood toys are a great solution to get risk of plastics. Look for toys colored with vegetable dyes or those finished with walnut oil, linseed oil, pure tung oil (be careful – sometimes "tung oil finish" is used as a generic term to describe a wetted wood finish) or with beeswax. And, if you are interested in being green, look for the Forestry Stewardship's seal. There are a lot of great sources on the web, but I particularly like

Oompa toys

and

ChildTrek

. Other favorites are

Mahar Dry Goods

,

Craftsbury Kids

(I'm lusting after the

Heirloom Hobby Horse

for

me

my daughter), Etsy,

Maukilo

.






Cloth is good too. Cloth toys are another solution to avoid PVC plastic toys. Try organic cloth toys that aren't treated with formaldehyde or grown with pesticides.






Research brands

. Some brands invest a lot more in verifying compliance with standards or the products are less likely to have lead present. Although it is plastic, Playmobil is a favorite in our house with the pirate and castle line for my son and pink castle line for my daughter. Believe me, even though it is plastic, I feel much better buying the

Playmobil pink castle

stuff compared to Disney princess stuff. Other favorites are Plan Toys and Haba.






Check for recalled toys

. Keep an eye out for recalls. Check out the CPSC's

website

identifying recalled toys.






Use toy database

. You can check out your toys by using the toy database maintained by the

Ecology Center

at

www.healthytoys.org

. It even has the capability to use your mobile phone for information while you shop.






Test your toys. Home lead test kits are available, and they can be used as a screen. But, be aware that they only check for lead, not all chemicals of concern. And, they only tell whether or not lead is present, not how much lead is present. Finally, they are prone to both false positives and false negatives, are subject to interference and aren't as good at checking low levels. Or, have an in home toy testing session with me!