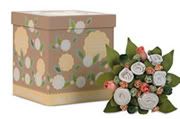 Smart Mama Swag: Win an Organic Baby Bunch donated by the fabulous people at The Baby Bunch. This is the best gift ever – in Smart Mama organic, undyed, unbleached cotton. Hat, t-shirt, onesie, bib and socks rolled up to look like flowers in a bouquet, wrapped with cellophane, and presented in a floral keepsake box. Read more here. Retail value $69.95.
I know – it looks like a bouquet. But it really is a set of clothes. The box details exactly what is in it (so if you give it as a gift you don't have to worry about the recipient not getting it).
Just sign up for the newsletter by July 13, 2008. One winner will be selected using a random number generator. Void where prohibited.