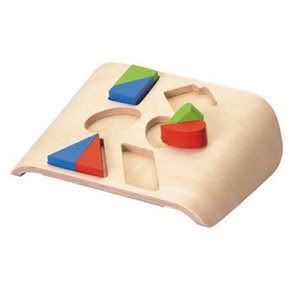 Updated: October 23, 2008
Here is a super The Smart Mama swag giveaway: 5 – that's right 5 (five) – Plan Toys Twisted Form toys.
First, I have to say that I love Plan Toys. Who wouldn't love this eco-friendly, kid-friendly company?
The Twisted Form toy is intended for children 18 months and older. One side of the board has simple shapes, and then there are 3 blocks. Each block shape can be twisted into a new shape and fits into 2 of the board shapes. The board is slanted and just right for play.
Okay, the best part – totally eco-friendly, super green & non toxic. The board is made from recycled rubberwood – rubberwood that can no longer produce natural latex – and is not chemically trated. In fact, to keep the rubberwood pure, no fertilizer is added to the soil for three years before the trees are cut. Plan Toys uses a non-formaldehyde glue and water based colors. And Plan Toys' philosophy is reduce, reuse and recycle. The company's manufacturing processes are designed to reduce waste and save energy. Even the printed materals are recycled paper and use soy and water based inks.
Details: I'll pick 5 winners from those that comment on those post, email me at jennifer@thesmartmama.com or send me a message via Twitter by Friday, October 31, 2008 at 11:59 pm PST.