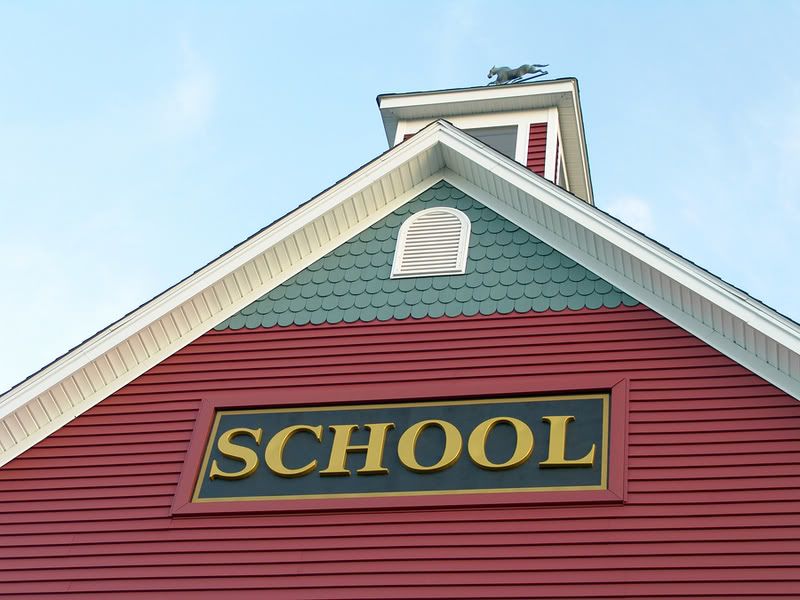 In the rush of getting back to school, from buying new (green!) school supplies to figuring out how you are going to make a 100 or more creative lunches (let me know when you figure that one out), you might not stop to think about the building where your child is going to spend a good part of his or her day. Or, if you do think about it, you may be focused on greening the school's cleaning or improving its pest management practices – both fabulous goals. I would guess that asbestos is the last thing on your mind.
Asbestos? What does asbestos have to do with going back to school?
A lot of us assume that the health implications associated with asbestos are no longer an issue. But we may be wrong. Flashback to Seinfeld – what happens when we assume?
Yes. Relatively regular news stories focus on asbestos in our children's schools, but you may not think about the implications for your children's schools. However, the EPA estimates that MOST of our nation's schools have asbestos-containing materials.
Despite the advent of asbestos regulations by the Environmental Protection Agency in the 1980s, asbestos is still a very real health threat. Exposure to asbestos fibers causes health risks. Plus, exposure to asbestos is the only known cause of pleural mesothelioma, a fatal form of cancer that has no cure.
So what the heck is asbestos? Asbestos is a naturally occurring mineral. Asbestos actually refers to a group of fibrous silicate materials. These fibers have desirable properties, such as heat insulation, fire resistance and strength.
Asbestos was widely used prior to regulations because of its excellent insulating capabilities. Most often found within insulation, asbestos may be found in over 35 million residences within the U.S. It is also found in commercial buildings. However, more of concern for parents with children going back to school, countless school buildings also contain high levels of asbestos, not only within insulation, but in drywall, acoustical plaster, stucco, roofing tiles, and floor and ceiling tiles.
Before you panic, keep in mind that asbestos is not harmful unless it is disturbed or damaged. Most often, the damage occurs as a result of a renovation project or some sort of disaster, such as a fire or flood. When damaged or disturbed, asbestos fibers become "friable" and may be released into the air, putting individuals at risk of inhalation. Asbestos fibers are long, microscopically thin fibers – so thin you can't see them – and they float in the air. If inhaled, the claw-like structure of the tiny asbestos fibers allow them to cling to the pleural lining of the lungs for decades before an individual may begin to experience common mesothelioma symptoms, including difficulty breathing and a chronic cough.
And children may be more at risk. Why is asbestos such a danger to our children? The latency period for asbestos related disease is between 10 and 50 years after first exposure – so children exposed at a young age of a potentially higher risk because they will have the long latency period. Mesothelioma has a latent period of between 20 and 50 years, so if a child is exposed at age 8, they may not experience any mesothelioma symptoms until they are in their thirties or older!
Unfortunately, despite the potentially higher risk, school officials, often overworked and underfunded, don't always the resources or information to adequately protect our children. Hundreds of school buildings must undergo asbestos abatement each year, and although the majority conduct this project during summer recess or school breaks in an effort to avoid exposing students, this does not guarantee that our children are exempt from exposure. Asbestos removal is often a result of aging asbestos-containing insulation and floor tiles that have loosened or corroded and are literally falling apart in classrooms and cafeterias – put off until the last possible moment because of budget shortfalls.
So what can you do?





Be involved and ask questions about remodeling and renovation projects.






Ask your children about the state of the buildings, and keep your eyes open when you visit the school facilities.






Be part of the school's green committee.






Speak with school officials about utilizing alternatives to asbestos-containing insulation and ask for a copy of the school's asbestos-testing records.






Participate in the process. The school/district should have an asbestos management plan. There should be an inspection and re-inspection for asbestos-containing materials every three years under the Asbestos Hazard Emergency Response Act (AHERA). You may want to check out the EPA's guidance on the

ABC's of Asbestos in Schools

or the EPA's website information on

asbestos in schools

.
You may also have asbestos at home. If your home was constructed prior to 1980, it is very likely that your home has asbestos in some of the building products. While we may not be able to control what happens outside of our homes, we can work to make our homes healthy and environmentally conscious.
Smart Mama's Simple Steps to Reduce Asbestos Exposure:





Inspect your home. If you have an older home, then you may want to inspect it to indentify suspect materials. If you still have your home inspection report from when you purchased the home (if you had one), then it may identify suspect materials.






Let it be. If the material is in good condition, let it be.






Don't disturb it. Make sure you don't cut, saw, sand, drill holes in or otherwise disturb asbestos containing building materials.






Repair it. If the material is not in good condition, then you probably need to repair it or remove it. Repairing it usually involves either sealing or enclosing the asbestos material. Sealing the asbestos material involves using a sealant that binds the asbestos fibers together or coats the fibers so that they cannot be released. Covering the asbestos material usually involves preventing the release of asbestos fibers by putting something over it, like a protective wrap over insulated piping or new flooring over asbestos containing floor tiles. Of course, repairing it means that that asbestos fiber remains in place. If you ever remodel or replace the material containing asbestos, you will need to take further action. A professional trained in handling asbestos should be used even for minor repairs because a risk of exposure exists and improper handling can result in a hazard where none existed before.






Remove it. Removal of the asbestos containing material will eliminate the risk if the removal is done properly. Make sure you use a professional training in asbestos handling.
This post was co-written by me and Samantha Catalano at the Mesothelioma & Asbestos Awareness Center. The MAAC provides information regarding asbestos and its associated health complications. Its goal is to build awareness and to provide support and education.