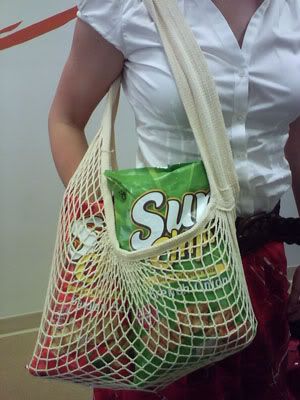 I was invited to participate in a Sunchips giveaway to promote its new packaging and National Geographic's Green Effect contest. Normally, I wouldn't do a giveaway for a snack food but I decided to do this one for three reasons. First, I like Sunchips. Second, I'm excited about Frito Lay's decision to move Sunchips' packaging to 100% compostable PLA by Earth Day 2010. And, third, I'm excited about the Geen Effect contest.
So, the FREE GIVEAWAY is a compostable bag with two full size bags of Sunchips. I got a sample of the prize for free, and the bag is wonderful. I've used it every day since I got it. I also like Sunchips so I was pleased with the chips. So, to enter this free giveaway, just leave a comment on this post by May 31, 2009 at 11:59 pm. Winner will be selected on June 1, 2009 by a random number generator. The prize will ship directly from Sunchips.
Now, I recognize that PLA (polyactic acid) isn't a complete solution to our landfills and oceans being overrun by plastics and debris. PLA will degrade in 14 weeks in an active compost pile, which means it will only work if your municipality composts. It is my understanding that it will not break down in home compost piles because the temperature is not hot enough. And they definitely will not break down in the ocean. So, while it is definitely a positive green move, it isn't perfect. But it is a start.
But, the real reason I'm hosting this contest is to get out the word on the Green Effect contest. SunChips and National Geographic have joined forces to create the Green Effect, an initiative to inspire individuals to spark a green movement in their communities. This is the contest you should enter to make a difference in your community—for the planet! You could win $20,000. Submit a description of your Green Effect idea by June 8, 2009. Ten finalists will be announced July 7, 2009. Online viewers and a distinguished panel of judges will review these inspiring ideas.
$20,000 each will be awarded to five people or groups that have the best ideas for green change. The five winners will also be profiled in National Geographic, and the winners will travel to Washington, D.C., to share their projects with environmental leaders. Go enter! And don't forget to leave a comment to enter the Sunchips giveaway here.
This is the unique URL for this post. Please click it before sharing!