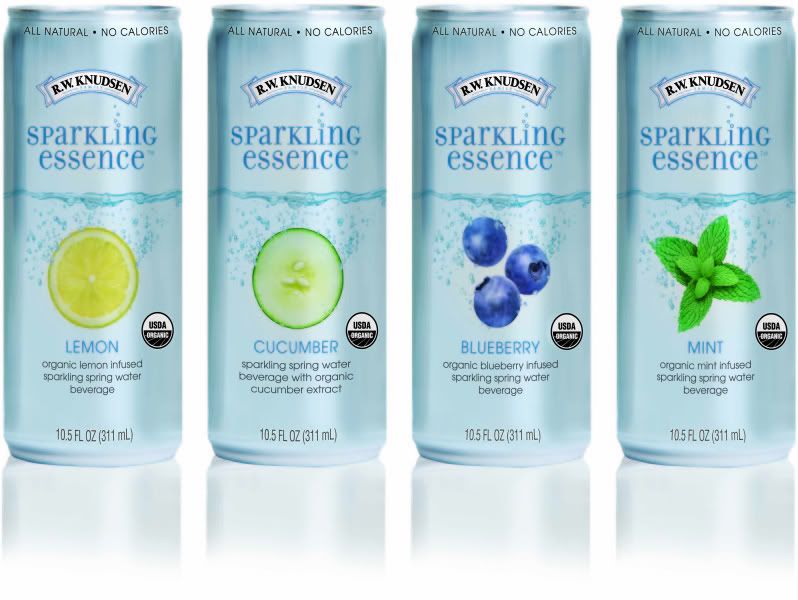 I was given R.W. Knudsen's new Sparkling Essence drinks to try (full disclosure – I got them free). I'm generally not a big fan of "disposable" drinks because I don't like to waste a bottle or can. I like making my sparkling water at home using my homemade soda maker from SodaStream, which, of course, I then flavor with sliced lemon or sliced cucumber of whatever. But, of course, I was willing to try R.W. Knudsen's new drinks, especially since you can't always make your own and I've always been a fan of the company's juices.
The Sparkling Essence drinks consist of sparkling water with flavor "essences." They are certified USDA Organic. No calories (always a good thing) and, of course, no added sugar (also a good thing). Also no added 0 calorie sweeteners, either.
I received samples of each of the new flavors – Blueberry, Lemon, Mint and Cucumber. They come in 10.5 ounce cans, so easily recycled in most jurisdictions but lined with an epoxy resin that may contain bisphenol a (BPA).
I tried the mint flavor first. When you open the can, a nice crisp mint scent wafts out. Mild bubbly water with just a hint of mint. Just a hint, nothing more. Not too overpowering. Now, mint in sparkling water is an acquired taste, but I love it and I loved Knudsen's Sparkling Essence Mint. Absolutely loved it.
My husband didn't like the mint too much, but he loved the blueberry. Blueberry is wonderful. Sweet, fresh blueberry smell with a hint of ripe blueberries in the sparkling water. Lemon was nice, bright and crisp, although probably the most conventional of the flavors.
My absolute favorite, however, was cucumber. Absolutely refreshing, great taste, great drink. My children didn't think much of the cucumber, but I thought it was great.
The only downside is that the drinks don't taste as good warm. They are MUCH BETTER chilled.
So, for convenient drinks, the R.W. Knudsen Sparkling Essence drinks rock it. In fact, I liked the products so much, I asked R.W. Knudsen to help out with my upcoming event to celebrate my book's publication. And R.W. Knudsen was generous enough to donate some for the Ultimate Healthy Parenting Party on June 28, 2009 at The Pump Station in Santa Monica, California. This free event is open to all, and you can try some Sparkling Essence if you join us.
This is the unique URL for this post. Please click before sharing. Thanks!