So, I've been posting about the fabulous Ultimate Healthy Parenting Party at The Pump Station and Nurtury to celebrate my book's release on June 28, 2009. If you are in Los Angeles, you are invited, and I really hope you will come. The event is free to all. The first 150 attendees will get awesome swag bag.
I'm also having a Twitter party with Resourcefulmommy on June 26, 2009. At both events, we will have fabulous prizes. So, I'm going to be highlighting some of the donors.
Danielle Elizabeth has some great diaper bags and diaper clutches. The owner and designer, Danielle Fyfe, and I met in conjunction with the CPSIA, and I reached out to her because I liked her "green by DE" line. I wish I had carried these when my kids were little. The "green by DE" line rocks it in black and white.
And, you don't have to worry about the changing pad containing lead. As I previously posted about, some vinyl changing pads and changing pad covers have had lead in them.
Danielle Elizabeth has donated a signature Messenger Diaper Bag (RV $175) from her green by DE line.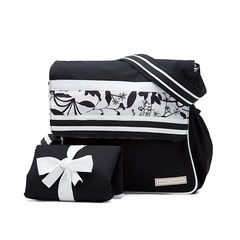 She has also donated a Diaper Clutch (RV $62) from her green by DE line. We will be giving one of these away at the Ultimate Healthy Parenting Party and one at the Twitter sitewarming party.
The green by DE line is made in the USA. They are made with organic solid and print fabrics with organic ribbon trim. Both are machine washable.
The Messenger Diaper Bag features convenient external elastic bottle sleeve and personal pocket, two large internal compartments, two internal elastic pockets and one bottle pocket, hidden magnetic closures and a removable changing pad.
The Diaper Clutch features a changing pad, an elastic pocket inside for diapers, a zipper pocket inside for items such as wipes and ointments and a zipper pocket outside for personal items.
Aren't they cool? Hope you come to one of the parties to try to win one.
This is the unique URL for this post. Please click before sharing.