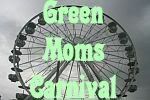 I am the proud host of this month's Green Moms Carnival with a topic I recommended – the phrase "I believe" and the opportunity to let our minds run wild with what that phrase means to each of us.  If you aren't familiar with our monthly Green Moms Carnival, it was all started by Lynn at OrganicMania, who rounded up all of us for this amazing monthly event of green mamas and women of the earth and anyone else who is interested to turn our collective voices to a particular topic. 
This month's topic is the two simple words – I believe.  The idea came from a series of essays I stumbled across, with each writer given the opportunity to explore those very simple and ultimately very powerful two words. 
Think about it – what do you believe? In this month's Green Moms Carnival, each green mom was asked to reflect on those two words.  And, this amazing group of women took that phrase and ran with it, to some of the most amazing and inspring collection of blogs.  Most of them found it a hard subject to tackle, but I found their thoughts truly inspirational.
Michelle's post over at Green Phone Booth entitled True Believer sent shivers down my spine.  It galvinized me to be a better person.  She still believes in us, and that we can turn it around, despite the bad news. 
Karen at Best of Mother Earth belives in parenting, prevention, choice, voice and more.
Lynn at OrganicMania believes not only in the power of the Green Moms Carnival, but also in the power of doing. 
Beth over at FakePlasticFish believes that while she doesn't know all of the answers, she believes in the power of the Internet to spread ideas.  She also articulates one of my beliefs – that plastic represents both the best of human ingenuity and the worst of human arrogance.  You really should check out FakePlasticFish, especially if you are looking to eliminate plastic from your life.  Her efforts help me keep the faith that we can get rid of disposable plastic.
Erin over at The Conscious Shopper believes that enviornmentalism is not just a movement of the white and affluent, but that it should be clean, green and fair for everyone.  And she tackles some important aspects, from promoting affordable public transportation to promiting health benefits.
Maryanne Conlin at The Not Quite Crunchy Parent believes in the green lining of this storm of bad news.  Just like you mother always said – look on the bright green side of things!
Katy over at Non-Toxic Kids shares her beliefs, particularly in the power of hope.  And of the value of sleep.
Diane at the Big Green Purse believes in the the power of the Big Green Purse.  She reminds us that women can be the world's most powerful economic and environmetnal force if we just shift our spending. 
And Anna at Green Talk believes that green makes cents.  Many people believe that going green is more expensive – but that really isn't true.  She focus on simple solutions for energy savings, reduce waste and consuming less.  And that is really the case – I believe that being green is not about buying green, but about living green, which means making do with what you got, re-using, re-purposing, using less – and more simple, and generaly much less expensive, lifestyle.
Mary Clare at In Women We Trust sums up her green belief in one sentence – she believes that women are the will, corporations are the way and sustainable standards will keep us all honest.  How she gets to that deceptively simple statement is an interesting read.
Alline at A Passion for Green Business believes that we can have it all.  And perhaps on 6 hours a day or less of working.  In her blog, she reminds us that buying it all isn't the solution to happiness, but perhaps building relationships and socializing is.
Christine at MoreGreenMoms believes also in the power of doing, and believes that we all should support the Kid Safe Chemicals Act.
So, what do you believe?  Do you believe in a greener future?  Do you have faith in the green movement?  Do you believe that we can make a difference?
Let us know what you believe.  Follow us on Twitter (hey, we won the Shorty Award for Best Green Content, woot!).  And, check out next month's carnival hosted by Jenn at Tiny Choices.