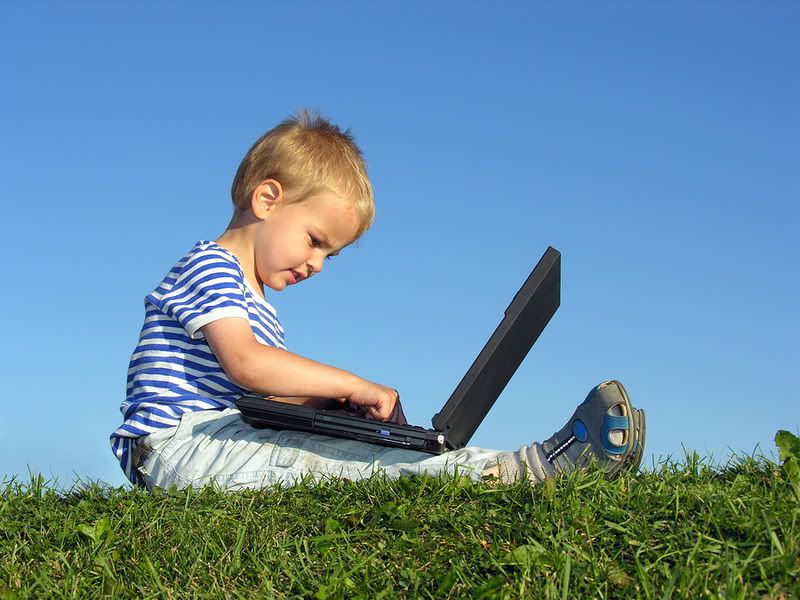 It appears that our youngest children – the children most susceptible to harm from pollutants – are more heavily contaminated with flame retardants than we are.  According to testing performed by the Environmental Working Group (EWG), toddlers and preschoolers had flame retardant levels on the average three times higher than their mothers. 
It was a little frightening to find out the EWG's laboratory analyses of blood samples collected from 20 children and their mothers revelead that the children – between the ages of 18 montsh and 4 years – were an average of 3.2 times higher than their mothers.  In total, the EWG reports that 11 different flame retardants were found in the children, and 86% of the thime the flame retardants were present at levels higher in the children than their mothers.
So what are these chemicals?
The chemicals are polybrominated diphenyl ethers (PBDEs).  PBDEs are a class of chemicals that have been and are used as flame retardants.  They are added to various consumer products to make them less flammable. 
Flame retardants save lives by reducing the rate of spread of a fire in household items including electronic components and mattresses.  So, flame retardants are added to all sorts of things, including plastic cases for electronics, such as computers, TVs, and DVD players; plastics used in cars, buses and aircrafts; and fabrics and foams, such as those used for furniture cushions, upholstery textiles, carpet backings, mattresses, and even cars, buses, and aircraft. 
But, PBDEs appear to escape as gas from the products to which they are added, and a adsorb onto household dust.  It is believe that we are exposed to them from household dust – about 80% of our exposure – and diet – the remaining 20%.
The scary thing is that PBDEs have been detected in virtually eery person and animal tested around the world.  The body burden of North Americans appears to be the highest levels in the world – 20 times higher than the highest levels reported in Sweden.
And, PBDEs have been linked with a number of adverse health effects.  Specifically, PBDEs appear to disrupt the thyroid hormone system, which is critical for brain development.  Further, recent research suggests that deca-BDE, the PBDE still in use, may interfere with the nervous system, may be a hormone disruptor and may be a developmental toxicant.
There are three common formulations of PBDEs – penta, octa and deca. Penta and octa were phased out voluntarily pursuant to an agreement between the sole US manufacturer and the US Environmental Protaction Agency.  However, penta-BDE and octa-BDE have not been banned (except for in a handful of states), so they may still be found in imported products.  Deca-BDE is still in use in the United States.
Unsure about whether your furniture has flame retardants?  You typically find flame retardants in soft furniture, such as couches and mattresses.  Why?  Because polyurethane foam, which is highly flammable, will have flame retardants added to it.
About a week ago, I participated in a conference call organized by the EWG to discuss the findings.  It was interesting to hear first hand the results of the study, and also to hear reactions from fellow green parenting bloggers.  You might want to check out, for example, Safe Mama's take on the issue.
To reduce exposure to PBDEs, try these Smart Mama Simple Steps:
Skip the farm (farmed fish, that is).  In analysis of products purchased from grocery store shelves, farm-raised salmon and farm-raised catfish had the highest concentrations of PBDEs.  Farm-raised fish contained 5 to 6 times more PBDEs than wild fish, except for swordfish, which had the highest levels of most any food tested.  As always.

Skip swordfish and duck.  Swordfish and duck also had high levels of PBDEs based upon analyses of products purchased from grocery store shelves.  Better choices – beef had the lowest levels, followed by goose, pheasant, scallops, canned tuna (although don't forget about mercury) and wild coho salmon.  Chicken had moderate amounts.

Don't let those dust bunnies multiply.  Vacuuming with a HEPA filter equipped vacuum and dusting regularly will reduce the amount of dust in your home, and thereby your exposure to those chemicals hiding in your dust.  According to a lead researcher in the field, Miriam Diamond, Ph.D., an environmental chemist at the University of Toronto, "any measures one takes to minimize dust will reduce exposures."

Ventilate.  Improving your home's air circulation so dust isn't collecting will reduce exposure.

Buy PBDE-free products.   If you are buying new products, then buy PBDE-free.  Source control is the best solution.  Always ask whether chemical flame retardants are added to products you are buying, or ask what is used to make the product flame retardant.  But, you probably aren't going to eliminate all products containing PBDEs since they are in so many consumer products.

Go natural.  Some products are available in naturally flame-retardant materials.  For example, wool and cotton both are naturally flame-retardant so window coverings, carpeting, etc., from these products may not have flame retardants added.  But always ask!

Check your furniture and other foam products.  If you have any polyurethane foam items with exposed foam or ripped covers, replace or cover up the exposed foam to reduce exposure.  You don't have to necessarily buy new – even using a heavy blanket as a furniture cover can help.

Wash hands!  Reducing exposure to dust will reduce exposure to flame retardants.  So, washing regularly with a liquid castile soap and warm water will help to reduce exposure to flame retardants.
And, keep in mind, not all of the atlernatives are safe.  For example, skip products containing chlorinated Tris as a flame retardant too.