I've gotten several inquiries asking what to do about Arrowhead and Sparklett's water bottles.  If you get water delivered to your home or office, the water probably comes in a 5 gallon polycarbonate plastic jug.  But, most of us are trying to avoid polycarbonate plastic because we don't want bisphenol A (BPA) in our water.  And it is especially important to eliminate BPA from your water if you are mixing the water with infant formula.  Here's more information about polycarbonate plastic, BPA and the potential  adverse health effects if you are just getting caught up on the issue.  
So, if you are trying to avoid polycarbonate plastic and bisphenol A (BPA), it is frustrating to realize that your water is delivered in a polycarbonate plastic jug.  Here you are trying to drink healthier water (although that is sometimes not accurate), and you are using polycarbonate plastic and potentially ingesting BPA.  At least in the Los Angeles area, it is my understanding that Arrowhead and Sparklett's no longer make available a glass option for home water delivery.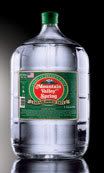 However, a Smart Mama reader informed me that Mountain Valley Spring Water delivers its spring water in a 5 gallon glass bottle.  With glass, there is no BPA leaching to worry about.  I checked several zip codes around the Los Angeles area, and delivery was available.  You can check delivery in Los Angeles too. I also found delivery in New York.  One caveat – I haven't reviewed the water report.  But, I wanted to at least let everyone know that there is a glass bottle delivery service available.  It may be a good option if you need water delivery and you want to eliminate polycarbonate plastic.