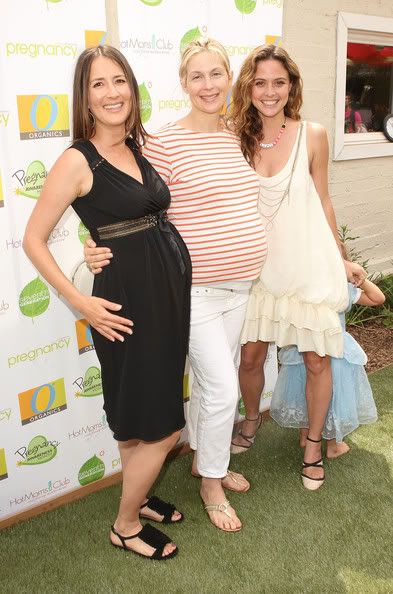 I had a fabulous weekend. I got to attend, Without children, and speak the 2nd annual Pregnancy Awareness Month (PAM) kick off event, Motherhood Begins Now, on May 2, 2009. I also got to meet some people I have only communicated with via the Internet, which is always a pleasure.
The event was hosted by holistic lifestyle expert Anna Getty, actress Josie Maran, actress Kelly Rutherford, and actress Ricki Lake. I didn't ever see Ricki Lake, but did see Kelly Rutherford. I had the pleasure of meeting Josie Maran, and being on a panel with our fabulous hostess and the founder of PAM, Anna Getty. (Photo courtesy of Jason Meritt / Getty Image North America; from left, Anna Getty, Kelly Rutherford and Josie Moran).
The event had perfect weather, despite predictions of rain. Not a raindrop to be seen. It was wonderful to see so many moms to be, moms and even a few dads (such as Jason Priestley) interested in going green and non toxic. The kids had a great time in the Kids Area sponsored by the Hot Moms Club. Also in the kids area was local eco-kids, with the company's fabulous eco-dough and eco-paint. My kids love the products, and if you aren't going to make your own playdough or paint, you might want to try these eco-friendly, non toxic (in the true sense of that word) versions, in eco-friendly packaging.
The event featured a great organic lunch from O Organics and celebrity chef Domenica Catelli. Who has been on Iron Chef America, which I love. So that was very cool.
I was thrilled to find out that O Organics is no longer limited to the Safeway / Vons stores, but will soon be coming to a grocery store near you. The certified USDA organic O Organics products are a good pricepoint with a great taste – we've eaten them for a couple of years now. My only criticism is that the packaging could be much more green – who wants organic catsup in a plastic container?
My panel was "Raising Healthy Kids in a Toxic World." A great topic! The panelists included me, Anna, Christopher
Gavigan, CEO of my favorite organization, Healthy Child Healthy World and author of the book by the same name (now out in paperback), pediatrician Dr. Alan Greene (he of the perfect name and author of Raising Baby Green) and Kimberly Walls, founder of Epicuren Baby Skincare. (Photo courtesy of Jason Meritt, Getty Images North American; from left Kimberly, me, Christopher, Dr. Greene and Anna).
We started the panel by discussing the presence of chemicals in our environment, how we are exposed, that we carry a body burden, and that the placenta does not prevent the transfer. We then offered simple solutions for every parent and parent to be to reduce or eliminate toxic chemical exposures:


Take off shoes to reduce exosure to heavy metals and pesticides by as much as 65%;


Eat healthy and organic to reduce pesticide exposure and help the planet;


Green the cleaning supplies to reduce exposure to carcinogens, allergens and reproductive toxicants;


Green personal care products, particuarly to reduce exposure to hormone disrupting phthalates found often in synthetic fragrance; and


Skip conventional chemical pesticides.
Kimberly Walls is a woman after my heart, being passionate about scent and labeling of personal care products. We talked a bit about the problems with labeling, and how consumers are misled by marketing claims, including baby care products.
The panel seemed to short to me, but then I can discuss toxic chemical exposures all day long.
Here's the unique URL for this post.