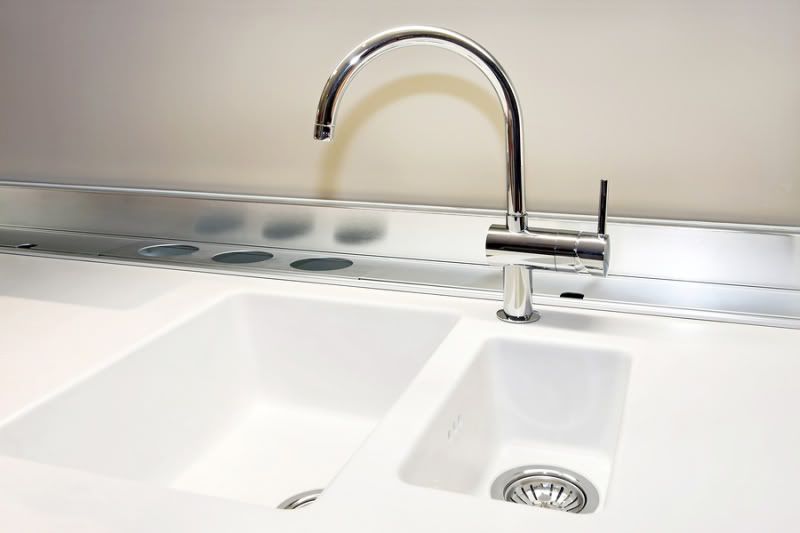 Woot! I am excited – I was on Martha Stewart Radio this morning. I've loved Martha Stewart Living magazine for years, and was just thrilled to be on the radio show this morning on homemade cleaning.
But then I got a call that stumped me.
A caller asked how to get stains out of her white Corian sink, indicating that my trusted remedy of baking soda and castile soap had failed. Since baking soda and castile soap substitutes for a soft scrub, I was surprised. And since I don't have any Corian surfaces, I haven't experimented.
And I didn't know the answer. Which frustrates my Type A personality. So, I did some research, and most recommendations are for a soft scrub and, if that doesn't work, a bleach based solution. Another popular recommendation is Mr. Clean Magic Eraser. But the caller wanted some more environmentally friendly and less toxic. I've come up with two solutions that are more eco-friendly than conventional cleaners:
1. Use a paste of baking soda and 3% solution hydrogen peroxide (what you find in most stores). Mix this up – you can even do it in the sink itself – and then let sit, covered, for a few hours. The recommendation is to cover with plastic wrap, but since I hate plastic wrap, perhaps just try a rag. After a few hours, just rinse clean.
2. If that doesn't work, fill the sink with water and drop a couple of denture cleaning tables in. Again, let sit for a few hours.
The Mr. Clean Magic Eraser may also be a solution. Many people swear it is the best thing for getting stains out. Here's the thing. It is made up of formaldehyde-melamine-sodium bisulfite copolymer. Although that sounds scary, the ingredients are basically all bound up in the polymer, and you really aren't going to get exposure to anything offgassing like you might most conventional cleaners. It is hazardous if ingested. The reason I don't like it is because it is a petrochemical based foam, and isn't good for the environment – uses non renewable resources and clogs up the landfills. But in terms of a home's indoor air quality, it shouldn't affect it (any formaldehyde would be minute).
Anybody else have solutions for a white Corian sink stained with coffee?