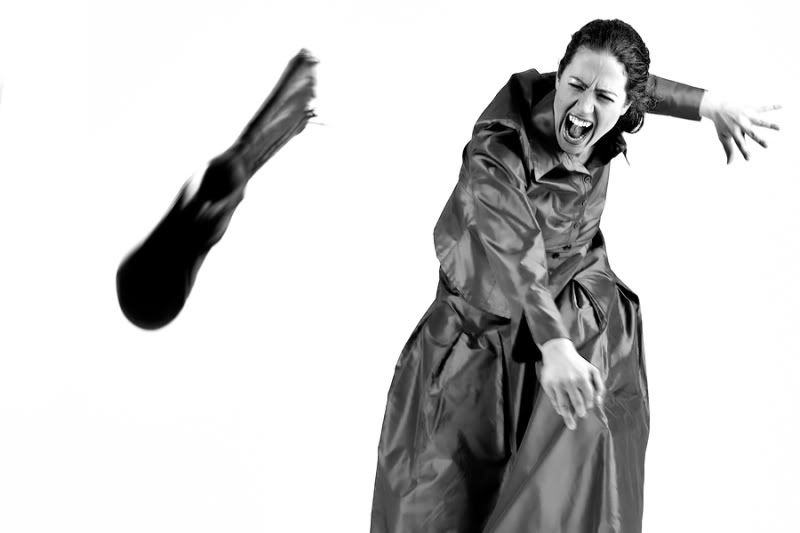 Hysterical mommy blogger? I think not. Well, if I am, I am at least in good company.  
Last week, the Campaign for Safe Cosmetics delivered a letter to asking J&J to eliminate the carcinogens 1,4 dioxane and formaldehyde, and hormone disrupting phthalates, from its personal care products. The letter was signed by almost 50 organizations, from Healthy Child Healthy World to the American Nurses Association. In other words, it isn't just mommy bloggers that are concerned about the products our children use. We are not hysterical. 
The letter was delivered by the Campaign for Safe Cosmetics. If you recall, the Campaign was responsible for the No More Toxic Tub report. That report identified the presence of the carcinogens 1,4 dioxane and formaldehyde in its popular baby products. Prior to the report coming out, I had posted about how J&J's baby wash was definitely not as gentle to the eyes as consumers might assume given J&J's family friendly face. With the release of No More Toxic Tub, the members of the Green Moms Carnival, including yours truly, posted and posted about the report, garnering the attention of industry organizations and industry representatives. In fact, a PR firm spent time slamming us and posting comments, but J&J refused to provide substantive answers to our questions.
 J&J's response to my inquiry with certain questions about its products and the No More Toxic Tub report, resulted in a form email containing this enlightening statement but no substantive answer:
 We want to reassure parents that JOHNSON'S Baby Shampoo and all our baby and kids products are safe, gentle and mild products that they can trust and use with confidence.
Do you believe this statement? You may. The statement is true in the sense that the products comply with the FDA's requirements. But the FDA does not approve cosmetic ingredients before the are used. The FDA's oversight of cosmetic safety is very lax.
 In any event, J&J's baby shampoo and other products contain the carcinogens 1,4 dioxane and formaldehyde. They also contain hormone disrupting phthalates. These ingredients are not disclosed on the label. 1,4 dioxane is a contaminant in certain ethoxylated ingredients. Formaldehyde is released from certain preservatives, called formaldehyde donor preservatives (such as Quat 15). Phthalates are found in fragrance. I don't believe that these ingredients are what moms think about when they consider products safe, gentle and mild. I certainly don't.
 I also think that it is odd that a company with such a family friendly image would continue to use such ingredients and would also refuse to answer our questions.
Products can be made without the ingredients at a comparable price point. In fact, lots of companies do it already. And, funny thing is, J&J makes products for the Japan market WITHOUT formaldehye donor preservatives. Which is completely ironic considering that industry spokespeople posted in comments on several blogs that well, without formaldehyde donor preservatives, a host of bad things could occur, like blindness. 
 In any event, I was pleased to see that the Campaign for Safe Cosmetics had delivered a letter that resulted in media coverage. I was also gratified to find out that the our famous Green Moms Carnival organizer, Lynn from OrganicMania, received an email from the Campaign for Safe Cosmetics thanking us:
Normally a letter like this wouldn't raise much interest, but clearly people are outraged that such a trusted product as Johnson's Baby Shampoo could contain carcinogens. I think the Green Moms Carnival was really helpful in tipping parents off to this problem when we released the "Toxic Tub" report in March – thank you. We're hopeful that the company will reconsider its position that "a little bit" of a carcinogen is nothing to worry about.
 
Thanks for your good work. 
Marisa Walker 
So, I'll keep urging change. I'll keep using my money to buy products I support. Products without these harmful ingredients, with more sustainable packaging, and that don't rely on non renewable resources.  
If that's hysterical, so be it.