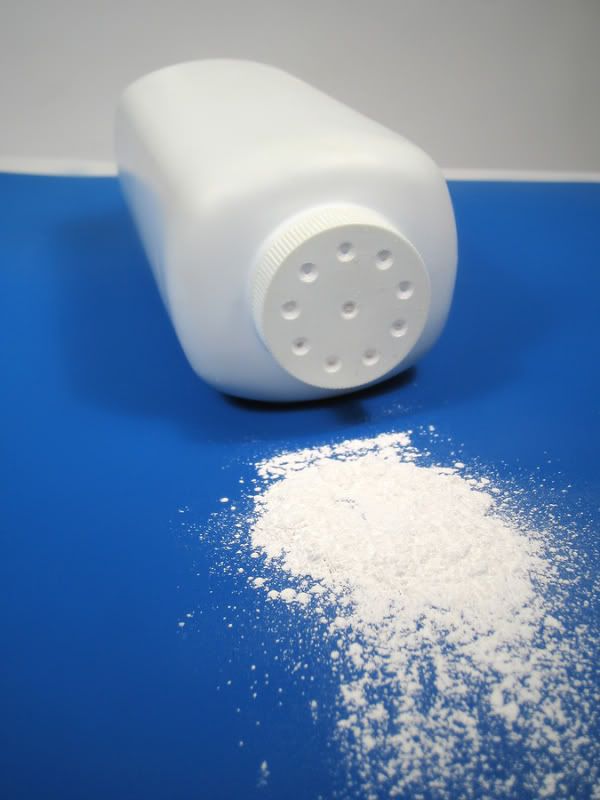 Times are tough. No doubt about it. So saving green may be just as important as being green. And if you can use what you got to do both, fantastic!
Baby or dusting powder is super easy to make at home, and may reduce exposure to a toxic chemical IF you are currently using a powder containing talc.
Talc is a mineral, produced by the mining of talc rocks and then processed by crushing, drying and milling. Processing eliminates a number of trace minerals from the talc, but does not separate minute fibers which are very similar to asbestos.
Talc is found in many personal care products. The products that pose the most serious health risks are those that can be inhaled – body powders, including baby powders; medicated powders; and perfumed powders and designer perfumed body powders.
Talc is toxic. In animal studies, after exposure to cosmetic grade talc, researchers found some evidence of carcinogenic activity in male rats and clear evidence of carcinogenic activity of talc in female rats.
Talc poses the biggest health risk when you inhale it. The common household hazard posed by talc is inhalation of baby powder by infants. Since the early 1980s, records show that several thousand infants each year have died or become ill following accidental inhalation of baby powder.
Researchers have also found a strong link between frequent use of talc in the female genital area and ovarian cancer. Talc particles are able to move through the reproductive system and become embedded in the lining of the ovary. Researchers have found talc particles in ovarian tumors and have found that women with ovarian cancer have used talcum powder in their genital area more frequently than healthy women.
So what can you do? Just make some. You can use this homemade powder for babies, or for dusting if you want.
How to do it? Just take some corn starch and add about 10 to 15 drops of essential oil. Blend in a blender (or I use a clean coffee bean grinder). Then, for baby powder, put in a shaker top container. For dusting powder, put in a covered container about 2 to 3 inches deep. Voila! For babies, lavender essential oil is best. For adults, just use one that is approved for skin contact.
If you don't want to make it, look for talc free powder and also free of synthetic fragrance. Eden's Kiss has a nice one.
This is the unique URL for this post. Please click before sharing.